Purcell Trench Company
grills about order contact grill tips
---
Home page: 2023
"I want to tell you something as well as order. Your grills are not just the best, they are so much better than any other that it is hard to describe." John Hetzner
Since 1993, Purcell Trench has been producing best quality light and ultralight campfire cooking grills for backcountry travelers.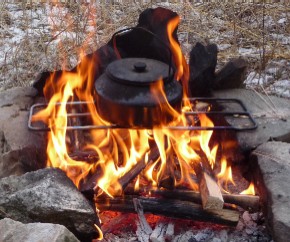 Camp grills come in 17 styles and 5 different frame sizes. All grills come with nylon carry bags. Weights: 1.9 ounces to 15.1 ounces. Prices: $11 - $153.
Purcell Trench grills are tungsten inert gas (TIG) welded of thin wall, made in the USA titanium or stainless steel tubing and expanded, flattened stainless sheet steel (expanded metal), or expanded Titanium metal. All-tube grills are composed of tubular frames and internal tubes called stays. Streamside grills are made of tubular frames and expanded metal and in the case of the Streamside Voyageurs Grill, also stays.
Grills and nylon bags are hand made in the USA.
Our backpacking type grills are preferred by motorcycle, backpack, kayak, canoe, raft, ski, horse, bicycle, sled, snowmobile, ATV and even car campers.
While simple, the products require skilled, hands-on labor unsuited to mass production or mass marketing.
We sell grills world wide directly from our shop. In addition, we have exclusive retailers in Canada and Japan - The Canadian Outdoor Equipment Company in Mississauga, Ontario; telephone 905-990-1750: canadianoutdoorequipment.com. Our Japanese retailer is located in Gunma, Japan and his telephone number is: 819011114127: https://www.pollogear.com/.
Payment may be made by check, money order, credit card, PayPal, postage stamps, wire transfer, barter or other creative methods. See the order form for specifics.
Standard shipping on all North American orders is $10, no matter how much or how little the order. Standard shipping to USA states and territories is US Postal Service Priority Mail. Elsewhere in North America standard shipping is First Class International. Standard shipping for other foreign orders is First Class International at US Postal Service rates, which may not include tracking or insurance. Priority International or other expedited service will normally include tracking. I will provide you shipping, insurance and other cost quotes prior to shipment, as you request them.
For more information, use the grills, grill tips, order, shipping and other links at the top or bottom of pages.
We do not advertise. If you like our products please pass the information along. We are grateful for our many customers who have praised our grills on forum pages and social media, in their outdoor organizations and to their friends.
Grills Grill Tips Order Contact About Testimonials Wilderness Shipping Privacy/Security Stove vs Fire Packing Light Leave-A-Trace FAQ
Post Office Box 7, Addy, WA, 99101, USA - phone: 509-675-1413 - sales@purcelltrench.com